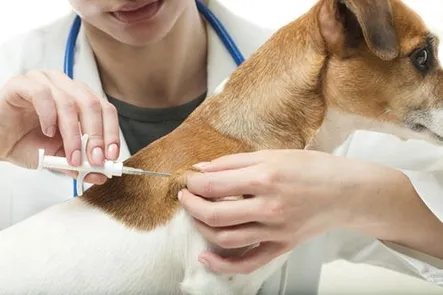 Every day, dogs and cats that went missing, sometimes for years, are being successfully reunited with their owners because they were microchipped. Microchips are quick to insert and it lasts for the life of your pet. At Avalon Animal Clinic in Indianapolis, our veterinarians look at what you need to know about microchipping your pet.
What is a Microchip?
A microchip is a rice-sized device that transmits a specific number. This number corresponds to your contact information, kept in the microchip manufacturer's database. Your contact information consists of your name, address, phone number, and sometimes, an email address. This information is only displayed when the chip is scanned by a microchip reader.
Microchipping is a Permanent Form of ID
Once a microchip is under your pet's skin, it does not leave. ID tags can fall off of collars. Collars can break or slip off. Ear tattoos are ethically questionable, but it has not proven to be a reliable form of ID for racing greyhounds, where ear tattoos have been used as a form of ID for decades. Over the years, tattoos fade, making them incredibly difficult to read. Greyhound thieves often simply cut the tattooed ear off.
It's Good Enough for Racehorses
Microchips have become so reliable that the North American thoroughbred industry relies on them as a means to permanently identify horses. Horses are not allowed to race without a microchip. If microchips are considered good enough for a multi-million-dollar thoroughbred, it is certainly good enough for your priceless dog or cat.
The Microchipping Procedure
The microchip is loaded into a hypodermic needle, then it is inserted into the skin of your pet's shoulder blades. It is just like getting a vaccination. You will fill out some paperwork so that your contact information is matched to the number on the microchip. That's all there is to it.
Updating Your Information
If you move, change your name, or change your phone number, you need to contact the microchip company so that these changes are made in the database. Otherwise, if your pet is found after being lost and is scanned, your old address and phone number will be contacted.
Checking the Microchip
It is a good idea to have your veterinarian scan your pet every year during the annual wellness exam to make sure the chip is still working.
Contact Our Veterinarians in Indianapolis, IN
If you have questions about the benefits of microchipping your pet and live in the Indianapolis area, contact Avalon Animal Clinic to speak with Dr. Kaiser and Dr. Kiley. Call our team today at (317) 842-4618 or reach us through our website by using our online contact form.